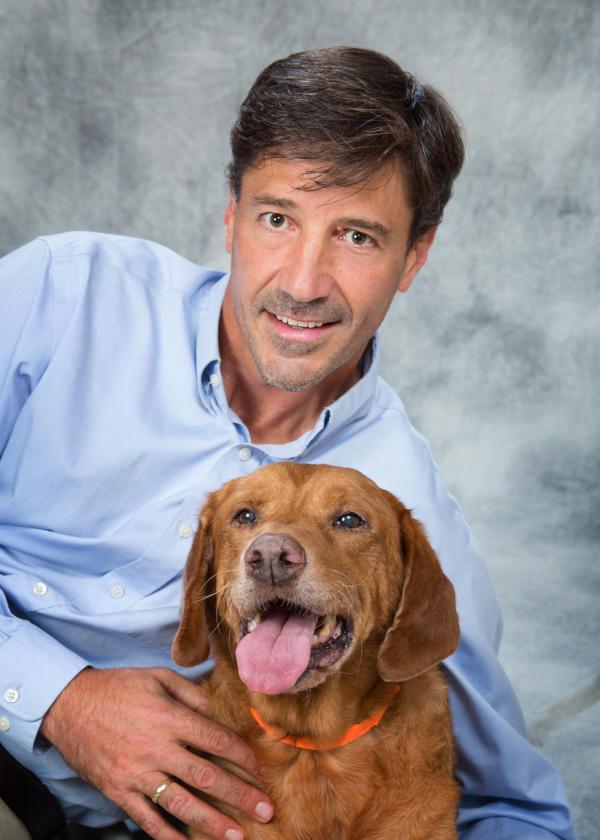 Michael Gorra, DVM
Dr. Mike grew up in Washington, CT, attending Judea Nursery School, Washington Primary and Shepaug Valley Middle and High Schools. He is a graduate of Colby College (Class of 1992 and where he met his wife Michelle) and Cornell College of Veterinary Medicine (Class of 1997). After vet school, he completed an internship in small animal medicine and surgery at Veterinary Specialists of South Florida in Cooper City, FL before spending 5 years in North Carolina. It was in North Carolina where Michelle and Michael's 2 daughters, Madeline and Abigail were born. He worked in emergency and critical care at the Veterinary Specialty Hospital of the Carolinas in Cary, NC and was also the staff veterinarian for 3 years at the Carnivore Preservation Trust, which is a rescue and captive breeding compound for exotic cats and other carnivores such as tigers, leopards, jaguars, servals and binterongs. In 2003, Dr. Mike and his family returned to his hometown to work with his father, Dr. Ferris Gorra, at Aspetuck Animal Hospital and took ownership of the practice in 2005. In addition to taking care of the areas pets, Dr. Mike is also the head coach of the Shepaug High School Varsity Ice Hockey team. He is a member of the board of the Shepaug Friends of Music as well as the Village Improvement Society in Washington. As well as hockey and soccer, he enjoys playing tennis and golf and in his spare 15 minutes per week, he has been known to help his wife, Michelle, in the garden.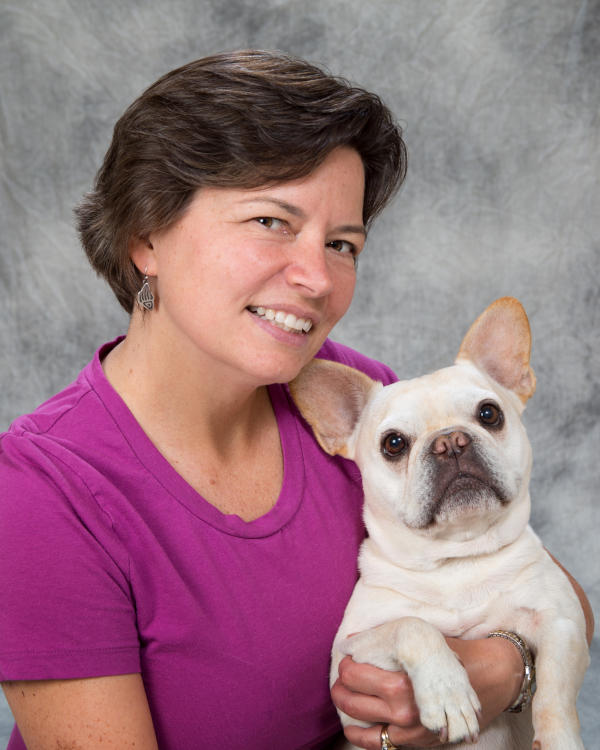 Patricia Grinnell, DVM, CVA
Dr. Trish graduated from Cornell College of Veterinary Medicine in 1997. She practiced small animal veterinary medicine in Chapel Hill, NC for nine years before returning to the Northeast to join Aspetuck Animal Hospital in 2006. She became a partner in January of 2012. Dr Trish is certified in Veterinary Acupuncture through the International Veterinary Acupuncture Society and has a special interest in Chinese Herbal Medicine. She lives with her family in New Milford and is an active member at the First Congregational Church in Washington. Interests outside the clinic include singing, volunteering with the New Milford Lions Club, watching her two kids grow and develop as wonderful, independent individuals.
She also shares her home with two French Bulldogs,Trey and Pickles, and three cats, Mufasa, Patches and Mota. Together, her bunch makes a very peaceable kingdom.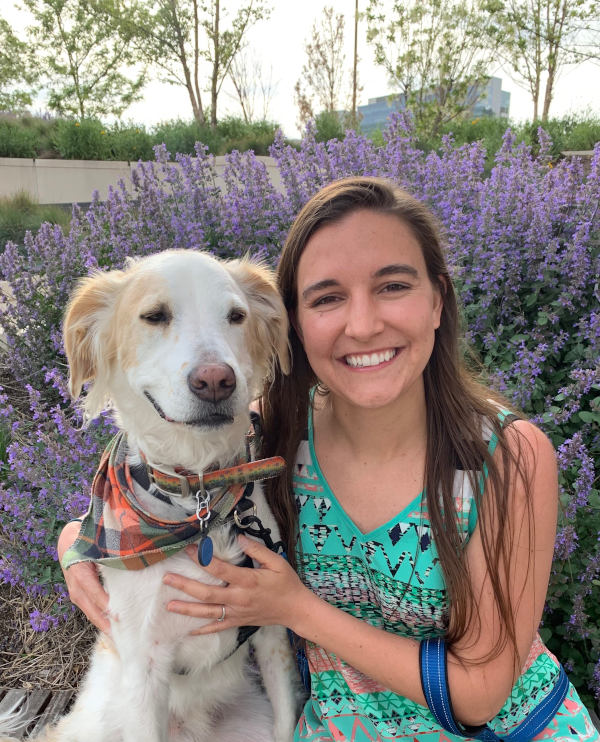 Tabitha Stillo, VMD
Dr. Tabi grew up in a small suburban town called West Caldwell in New Jersey. She has always wanted to be a veterinarian, in fact, her pre-school time capsule said that it was her dream job.
She grew up with 5 Shih-Tzus, so they truly have a special place in her heart.
Dr. Tabi received her bachelor's degree in Animal Science at North Carolina State University with a minor in nutrition. After completing her undergraduate studies, she took two years to gain valuable experience as a technician to develop her technical skills prior to attending the University of Pennsylvania School of Veterinary Medicine.
From there, she acquired expertise working in shelter medicine where she developed her surgical skills.
Dr. Tabi currently resides in New Milford with her husband, two mix breed rescue dogs, Blakeslee and Barnegat, and her senior cat (that she has had since middle school) named Michael.
In her spare time, she enjoys hiking and backpacking with her dogs, fishing with her husband, and gardening.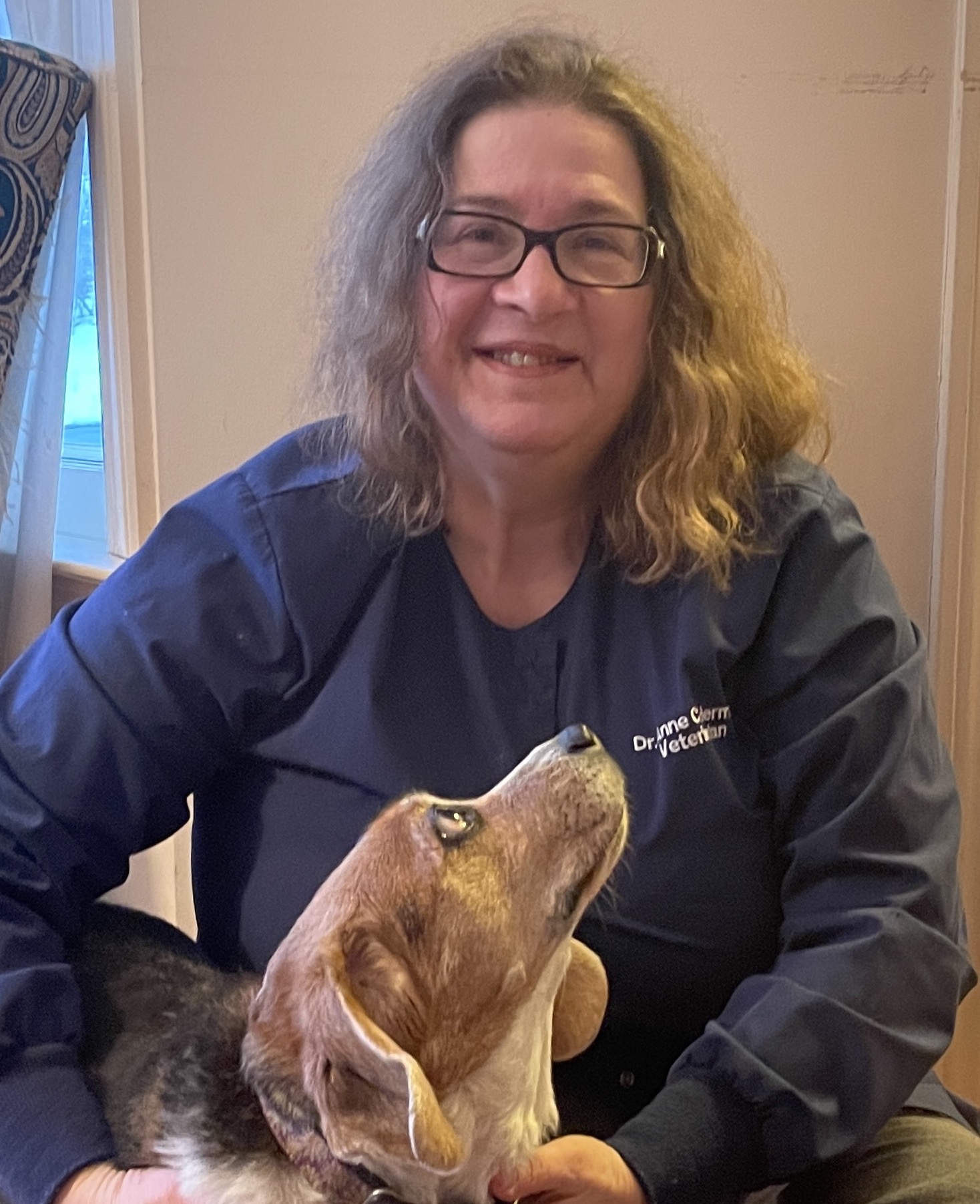 Anne Hermans, DVM
Dr. Anne grew up spending vacations on her aunt's New England sheep farm, which inspired her to become a veterinarian. She graduated from Cornell College of Veterinary Medicine in 1990. After practicing small animal and emergency medicine on the west and east coasts as well as pursuing neurobiology research, Dr Anne was certified in Veterinary Homeopathy through the Academy of Veterinary Homeopathy in 2000. Her clinical passion is integrative holistic care.
Dr. Anne is also involved in education, most recently launching the AVMA accredited Veterinary Technology Program at Norwalk Community College, and teaching in Shepaug's Agriscience Academy.
She lives in New Preston with her family, as well as several fur bosses and a corn snake. She enjoys rowing, swimming, kayaking, gardening, reading and cooking.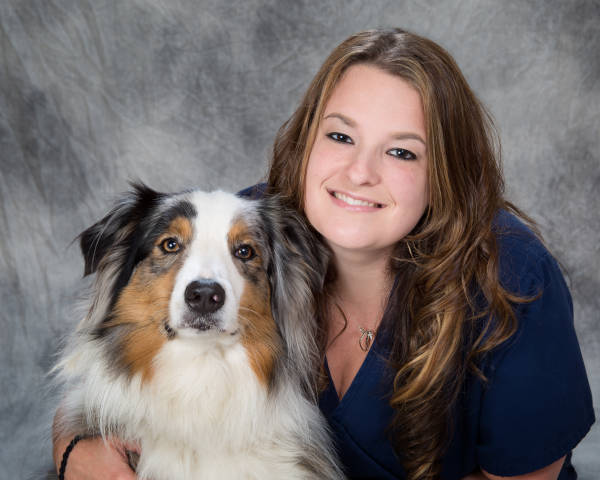 Emma Lord
Practice Manager
Emma joined the Aspetuck Animal Hospital team in April of 2014. She had previously worked at Aspetuck Animal Hospital in our boarding kennel during high school and then left upon graduation to pursue other endeavors. Emma has spent the last 5 years at Union Savings Bank in New Preston, CT, making her a familiar face in the community. An animal lover, she regularly volunteers her time with the Passion for Paws Rescue in New Milford, CT. She has three furry family members of her own, Gus, a German Shepherd mix and two cats, Timmy and Jackson. She usually has a foster or two running around her home in Roxbury as well! In her free time, Emma enjoys hiking local trails and cooking for family and friends. Emma and her husband, Christopher, have two daughters, Ava and Anna.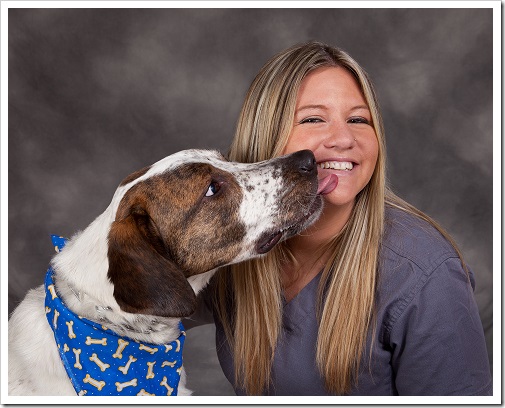 Kristen, Certified Veterinary Technician
Kristen graduated from Northwestern CT Community College Veterinary Technology Program in 2005. While attending this program, Kristen completed an externship at Aspetuck Animal Hospital and was hired in January 2005 as a certified Veterinary Technician. Kristen currently holds the position of Head Technician. She has special interest in ultrasonography. Kristen has 3 dogs, Kayleigh-Jade, Bubba and Jack. Kristen's hobbies include hiking with her dogs, boating, and spending time at the beach.
Nicole S. , Lead Veterinary Technician
Head Technician
Nicole started working for Aspetuck in 2011 as a Veterinary Technician. Her love for animals started at a young age, with a special interest in horses. She began her career in the veterinary field at an animal hospital in Massachusetts, where she started as a kennel attendant and gained the knowledge and skills necessary to advance into the medical setting. Her passion and drive to always learn more has allowed her to take advantage of many opportunities for expanding her knowledge base and she has an especially strong understanding of anesthesia safety, obedience training, Fear Free Practices, and Low Stress Handling. Nicole's love for animals is especially evident when she speaks of her own pets. In addition to finding joy in working with animals, Nicole adores spending time with Scott and their daughter, Makayla, born in June of 2014.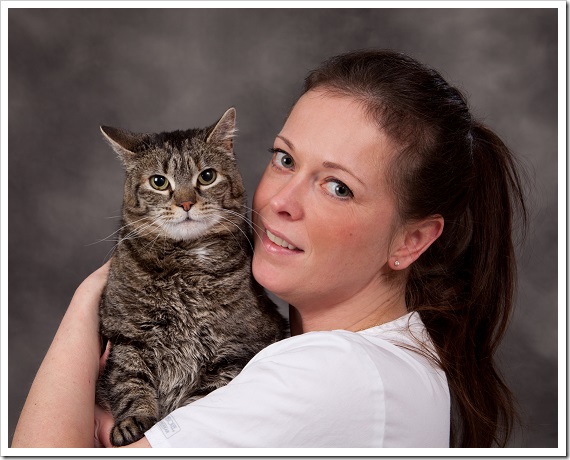 Lara, Veterinary Technician
Lara began her career at Aspetuck Animal Hospital working as a kennel attendant while attending Shepaug Valley High School. During high school, Lara completed a home study course in animal science. Lara has been at technician at Aspetuck Animal Hospital since 2003 and has a special interest in our feline patients as well as in surgery. She chose this field because of her love of animals and her gentle ways and patience make her a perfect fit! In her time away from work, Lara enjoys horseback riding. Lara also owns two cats, Andy, who she has raised since he was 4 days old, and Thor, a three legged feline who was rescued from a traumatic injury. Lara also enjoys being outdoors hiking and pet-sitting for many of our clients.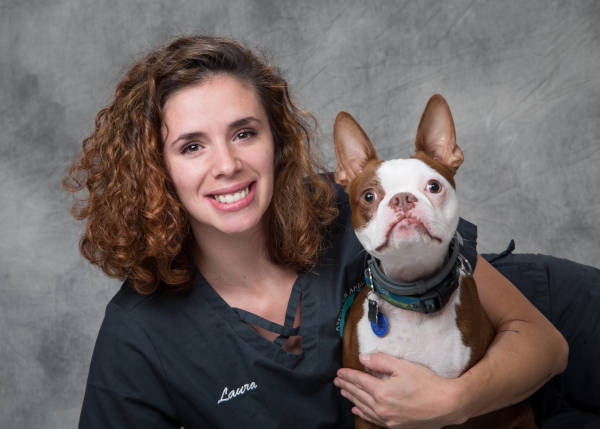 Laura, Veterinary Technician
Laura joined the staff at Aspetuck in June 2018 as a Veterinary Assistant. Laura grew up with a passion for animals and even at a young age helped find homes for feral cats. When she was 14 years old, she started pet sitting, and throughout high school she volunteered at cat shelters. Laura has a Bachelor of Science degree in Biology and is currently on track to graduate in May 2019 with a degree in Veterinary Technology. Prior to working at Aspetuck, she worked for five years in kennel settings, one of which was also an animal hospital. When not at work, Laura gives loving care to her three dogs and hedgehog who share her home.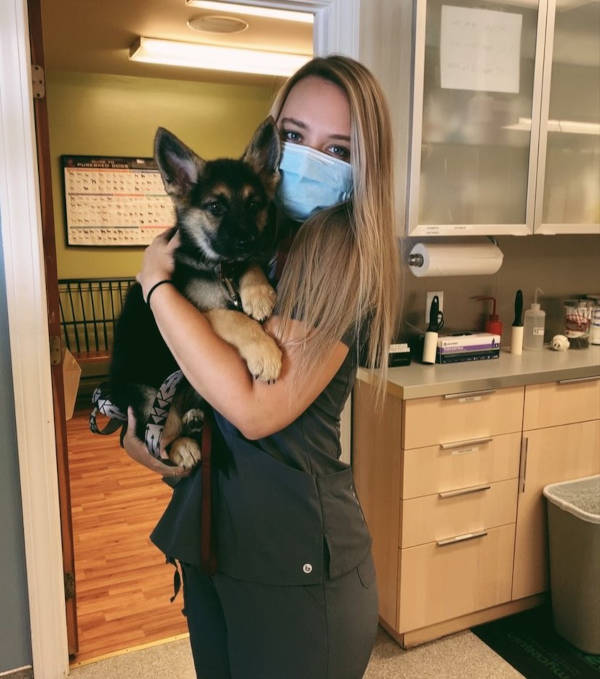 Cailie, Veterinary Technician
Cailie or "Cay" as she is known to her family and friends, joined Aspetuck in January 2020. She received certification as a Veterinary Assistant through Texas A&M's distance education program while attending UCONN and is a graduate of Nonnewaug High School where she studied Animal Science.
Prior to joining Aspetuck, Cay worked as a veterinary technician for The Cat Clinic located in Danbury, CT.
Having joined as a Kennel Assistant right before the COVID pandemic, Cay's technician skills became quite apparent during this busy time. Her flexibility and previous technical skills allowed her to quickly move into a Technician Assistant role. Cay is currently training for a permanent spot on our Veterinary Technician team.
Cay, a native of Connecticut, grew up around horses and large animals. She has been riding since she was 8 years old. When she's not honing her vet tech skills, Cay can be found hiking, fishing, hunting, working on her car with her boyfriend, Franklin, or snuggling with her cat, Remington!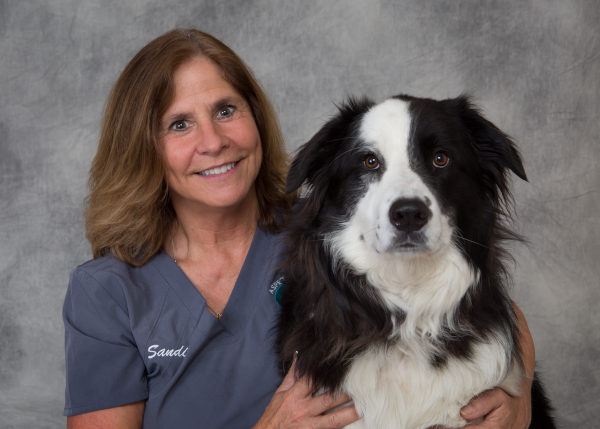 Sandi, Veterinary Technician
Sandi returned to our team in April 2019 with a wealth of professional experiences in the veterinary field. For over 30 years, she has maintained various roles within an animal hospital setting, including receptionist, technician, and practice manager. She possesses a well-rounded knowledge of veterinary medicine and client care, and we are thrilled to have her back in our practice serving our patients and clients! Sandi lives in Washington with her dogs, Zoey and Ruger, and cat, Diesel. Harold, Veterinary Technician
Bio coming soon. Clio, Veterinary Technician
Bio coming soon.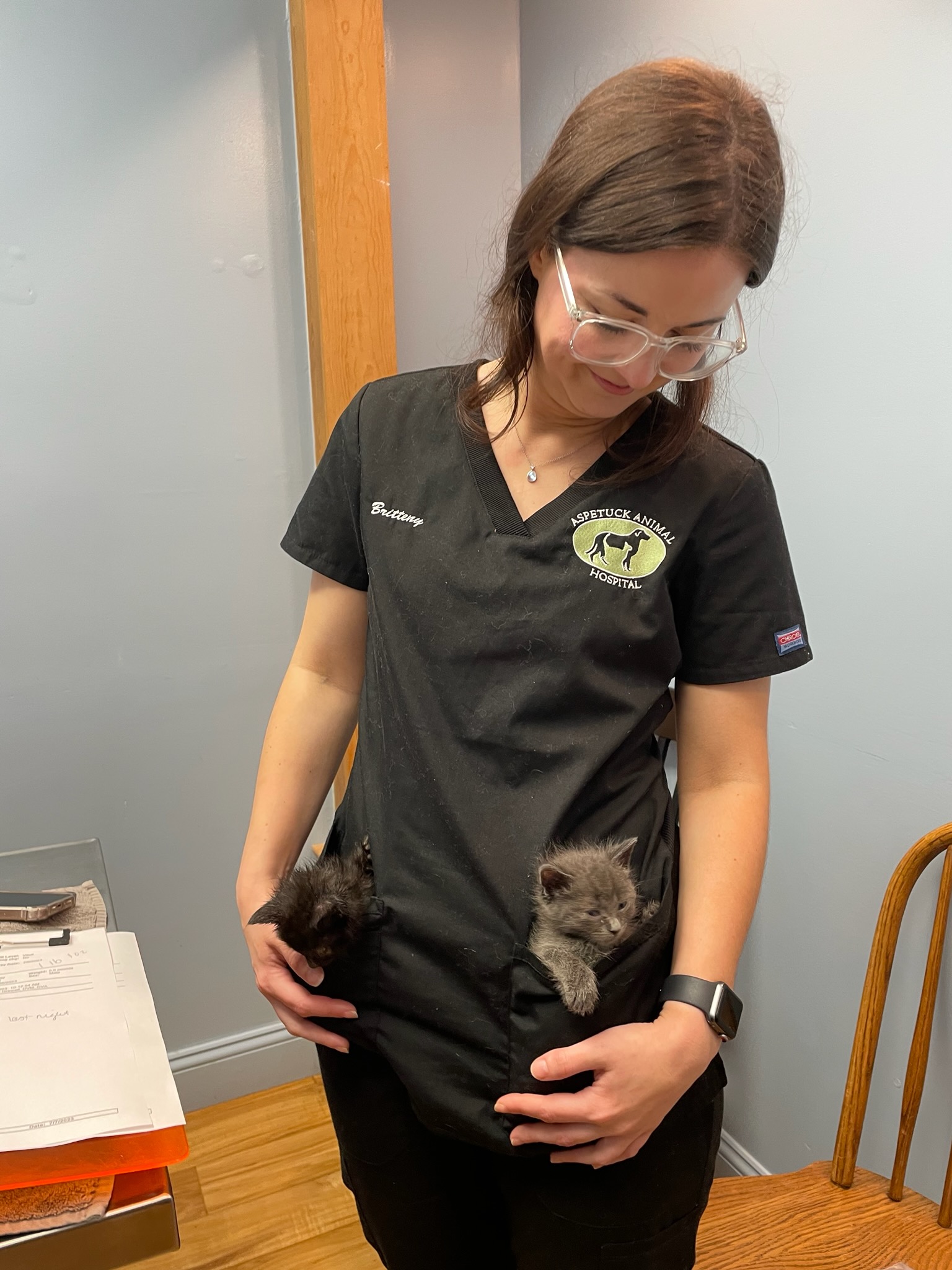 Britteny, Lead Customer Service Representative and Veterinary Technician
Lead CSR
Britteny has worked in the veterinary field for 5 years and happily joined us at Aspetuck in April of 2023. She splits her time between managing the front desk and working as a technician. She has a passion for animals and learning. You can often find Britteny taking the time to learn new skills and expanding her knowledge.
She is very excited to work with the existing CSR staff to help broaden their knowledge together and help create new policies to promote the satisfaction of our wonderful clients and the wellbeing of our patients.
Britteny has always had a love for all animals, big and small, but has a passion specifically for extra-large and drooly dogs. 
She lives nearby with two cats and her daughter, Hayden. When not working she enjoys hiking and outdoor adventures with her daughter, cooking, and reading.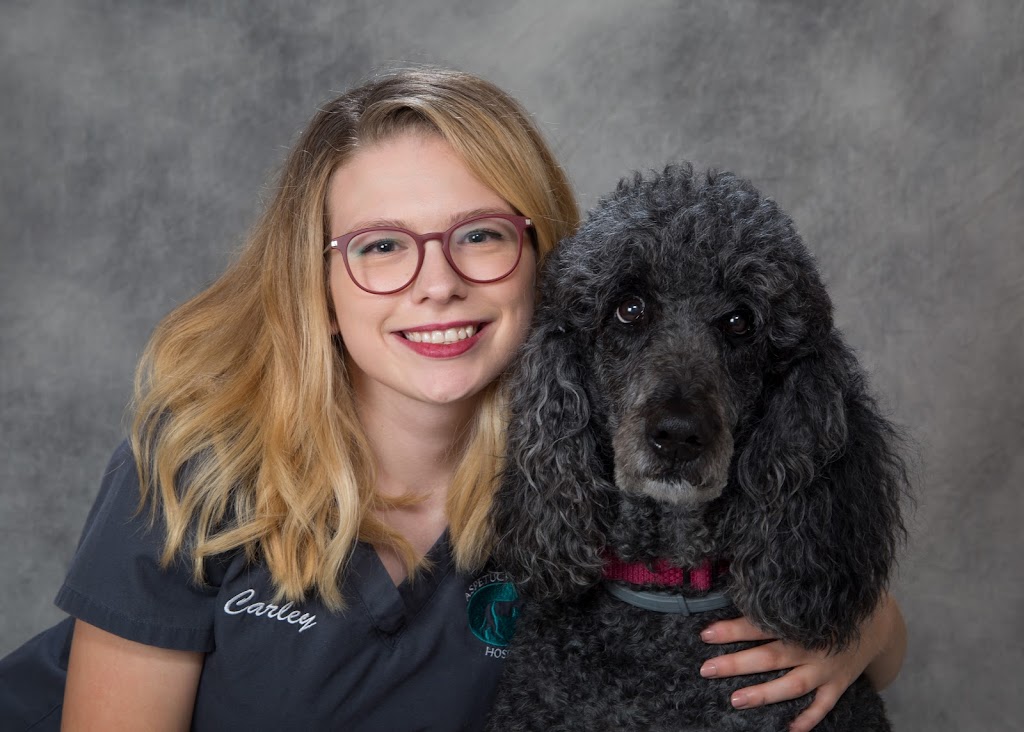 Carley, Customer Service Representative
Carley started as a CSR at Aspetuck Animal Hospital in October of 2017. Since, she has graduated from Northwestern Connecticut Community College and has become a licensed Veterinary Technician. She has a background with dogs, originally working at Unleashed Doggie Daycare straight out of high school; but prefers cats. You can always find her home full of foster cats, as she is very passionate about rescue and hoping to continue in that direction. Her favorite animal is a poodle, the bigger the better.
In her free time, she enjoys leisurely walks with her dogs, napping and snuggling with her cats, and studying to further her education.
In the future, Carley hopes to expand her travels and further her career in rescue.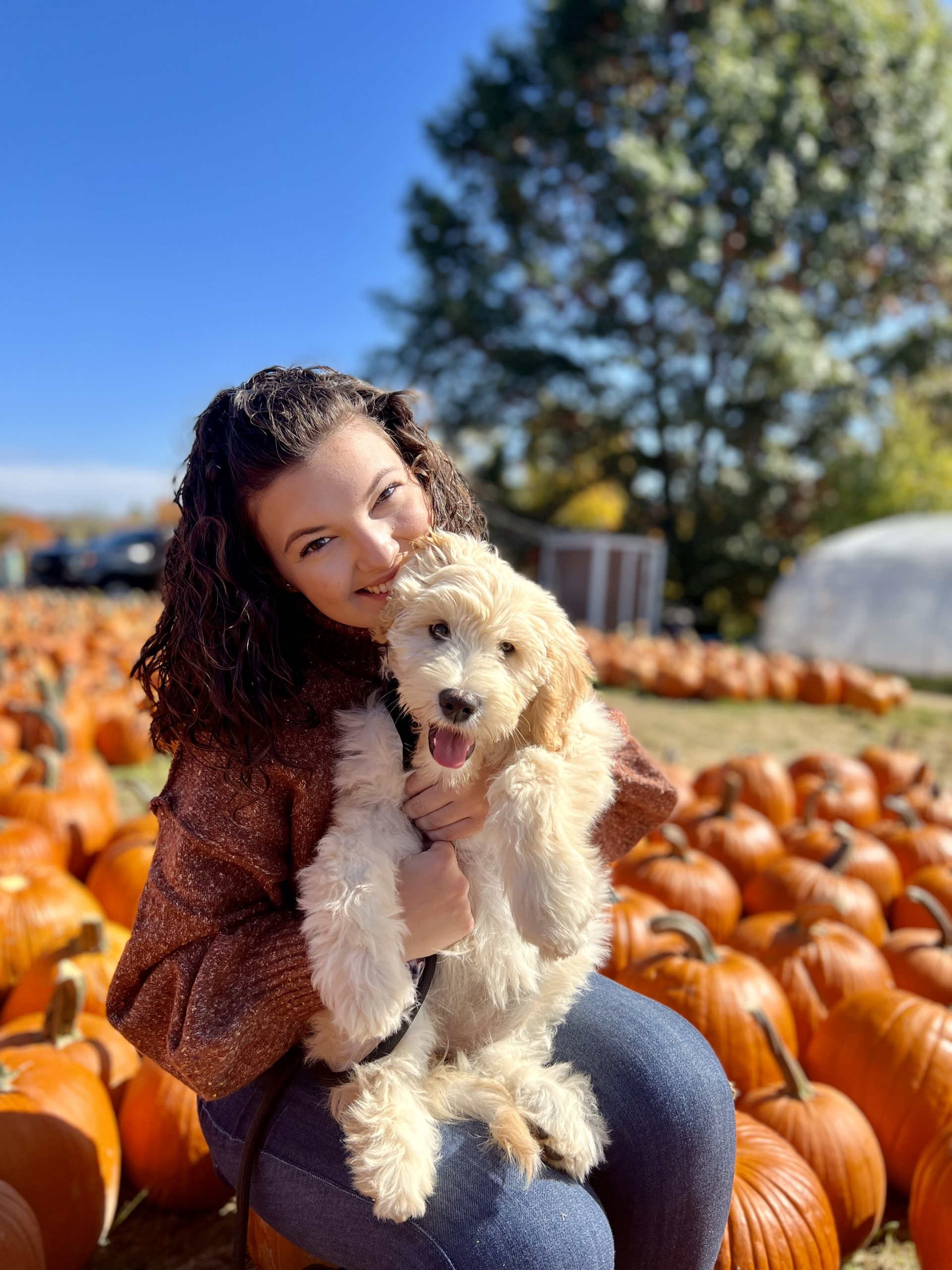 Nicole O., Customer Service Representative
Nicole joined the Aspetuck team as a receptionist in May of 2022. There has never been a time in Nicole's life where she didn't have at least one four-legged friend running around her home (dogs, cats, and even turtles!). However, she will always have a soft spot in her heart for Shih-Tzus! While growing up in Newburgh, NY, she began her college career to move toward becoming an animal behaviorist. That is until she discovered child/adolescent psychology which launched her into getting a Bachelor's degree in psychology at WCSU. She now has her Master's degree in school psychology and is continuing to pursue her specialty certificate in school psychology at SCSU.
Before coming to Aspetuck, Nicole worked in small animal pet care at various pet stores.  During the school year, she worked in special education as a paraprofessional and was also known as "coach" when she coached middle school cheerleading.  She has always loved working with kiddos and of course, animals.  Nicole chose to work at Aspetuck because of her lifelong love for animals and for helping people.  She places a huge emphasis on building a loving, supportive community which also lines up with Aspetuck's goals.  
In the (very little) free-time Nicole has at her home in New Milford, she enjoys crocheting, reading, baking, and online shopping!  All of which are a lot more enjoyable to her in the summertime.  As of right now, there are no furry friends in her home but once she finishes school, she plans on adopting a Bernese Mountain dog as soon as she can!  Did we say a soft spot for Shih-Tzus?  We meant any dog with lots of HAIR!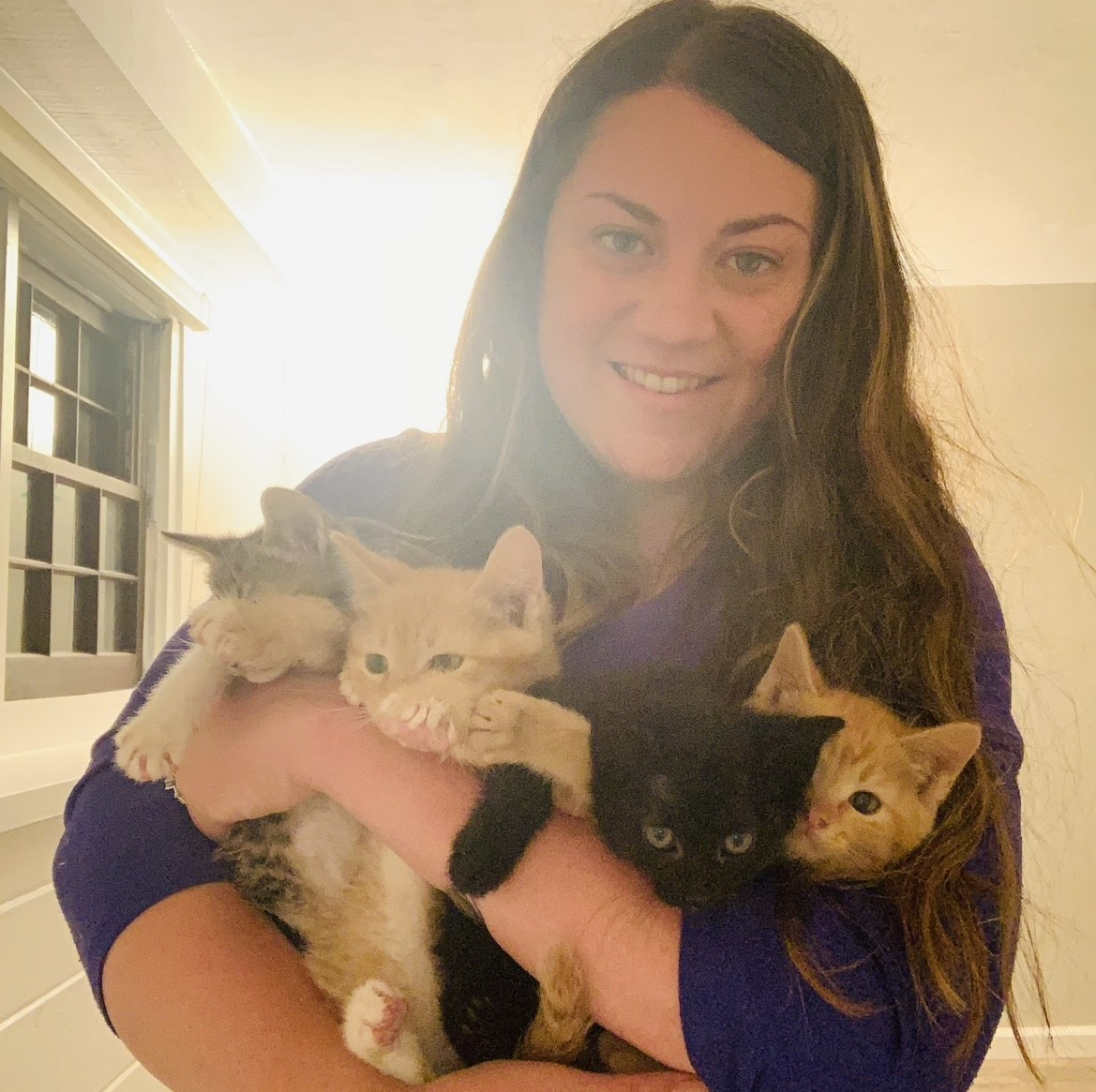 Sabrina, Customer Service Representative
Sabrina joined the veterinary field in 2020 and Aspetuck Animal Hospital September of 2023. Prior to working in the field, she earned her degree in social work and has a true passion for helping others whether they use two feet or four.
She has a lifelong love for animals and is happiest when surrounded by whiskers and tails. She volunteers her time and fosters for various local animal shelters helping care for cats, dogs, and even horses.
She lives with her husband, son, three cats, a dog, and a bunny. In her free time, she enjoys photography and spending time out in nature with her family. Val, Customer Service Representative
Bio coming soon.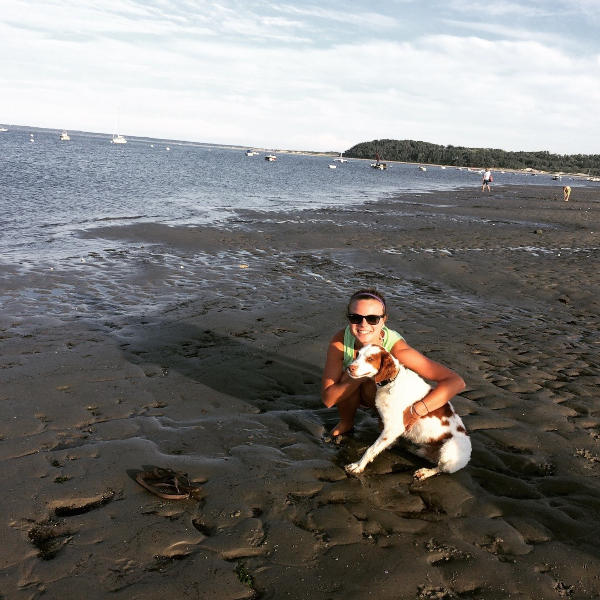 Meghan, Veterinary Assistant
Meghan became part of the Aspetuck team in February 2021. As a Veterinary Technician Assistant she is working in a career that fulfills her passion to help animals needing tender loving care. Meghan attended the University of New Hampshire small animal care program and received her certification as a veterinary assistant at Tunxis Community College. She has worked or interned at various animal hospitals, grooming shops and rescue centers in Litchfield County, including an internship with Doc Gorra while in high school. Meghan enjoys summer swims and running for fitness, but really loves spending time with her family and dog Riley, an energetic Brittany. Aaron, Veterinary Assistant
Bio coming soon.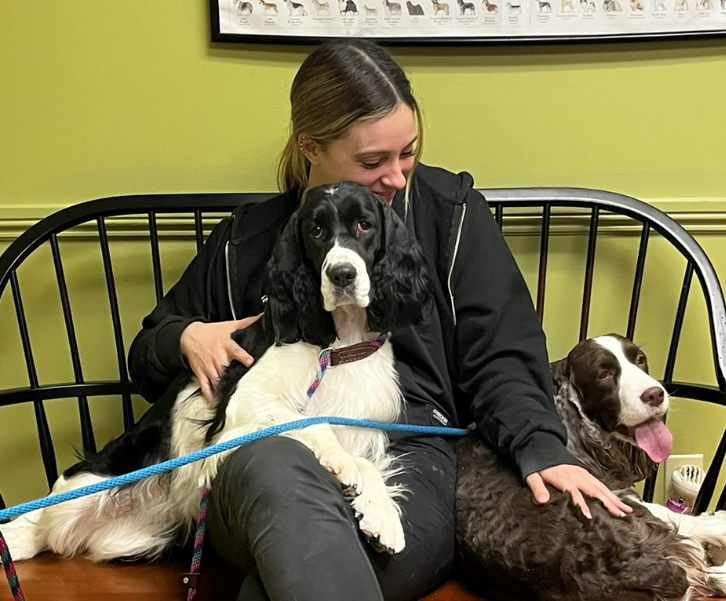 Haliegh, Veterinary Assistant and Kennel Technician
Haleigh began working at Aspetuck September of 2022 as a Kennel Technician. She brought along with her 4 years of work experience in the veterinary field. Haleigh knew straight out of high school that she wanted to take care of animals. She loves cats and English Springer Spaniels, but really anything with fur! Since she joined our team, she has been training to be a technician assistant and her long-term goal is to become a certified technician. In her free time, Haleigh enjoys spending time with her family, friends, and cats (Noel, Nala, Sully and Simba).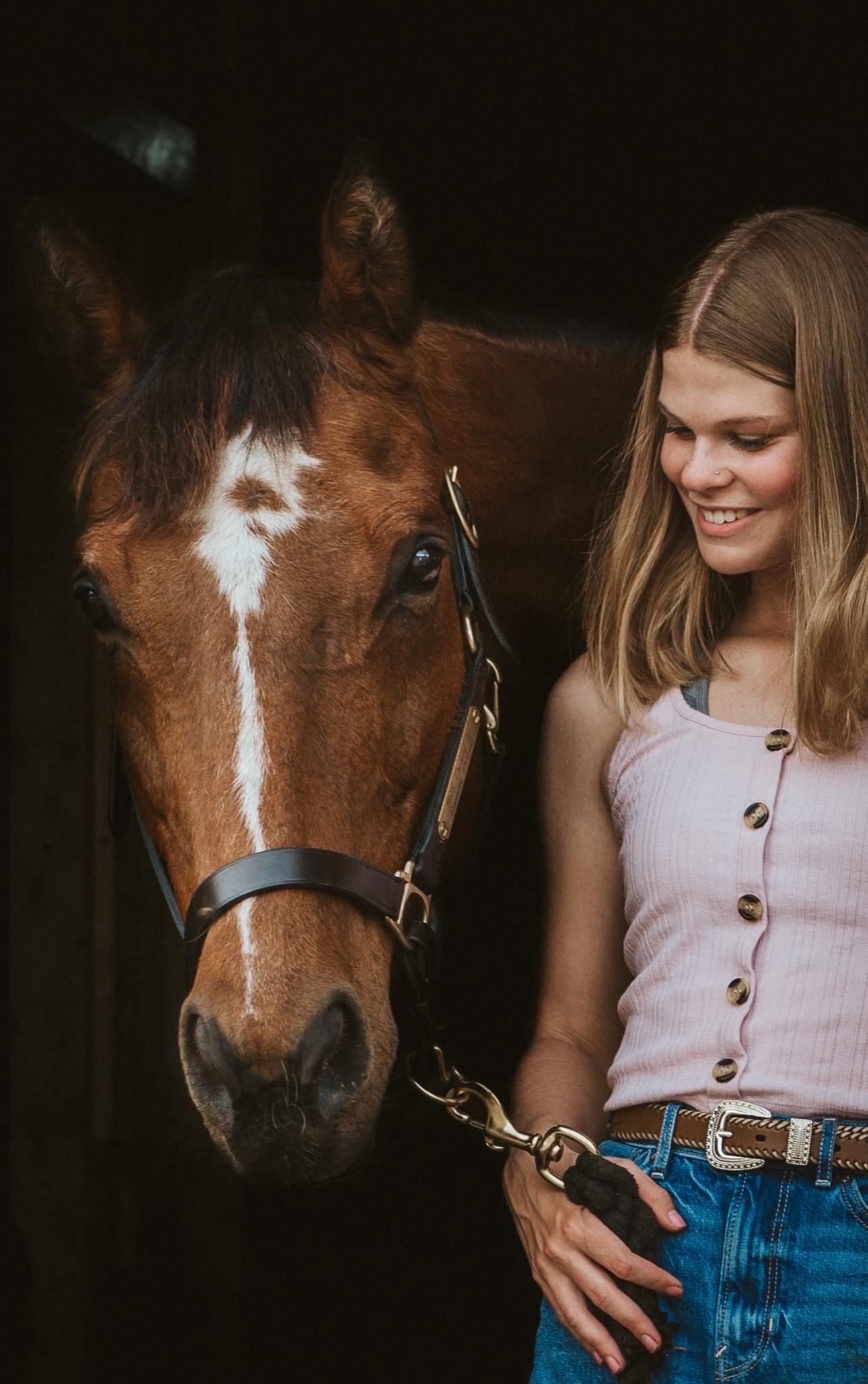 Sam, Veterinary Assistant and Kennel Technician
Sam started working at Aspetuck in December of 2022. She grew up in Washington and attended Shepaug Valley Middle and High School. Her passion has always been caring for animals and she is currently enrolled at Northwestern Community College in the Veterinary Technician program with a goal to become certified. Her hobbies include spoiling her puppy Daphne, spending time with her horse Milo, and reading. Jeyla, Veterinary Assistant and Kennel Technician
Bio coming soon.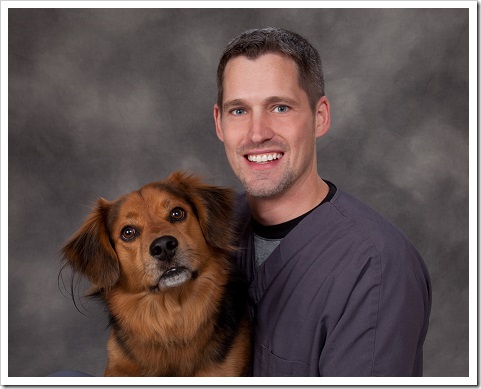 Kevin, Kennel Technician
Kevin joined our kennel staff in the summer of 2009. Kevin has been a tremendous addition to the Aspetuck Animal Hospital staff, bringing with him many years of experience working at a doggie daycare. Kevin loves spending his days with our boarding pets and ensuring that each and every one of them is happy and enjoying their stay! He has a very outgoing personality and enjoys meeting and talking with our clients. Kevin also assists the technicians when needed and helps around the hospital with handyman jobs. During his time away from work he is busy raising his two sons, Mason and Jake. They enjoy spending time outside, swimming in the lake, and hiking on the family property with their dogs.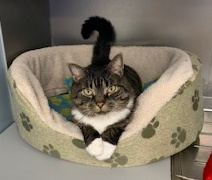 Monkey
Monkey is our resident clinic cat. He enjoys "assisting" our doctors and staff in their daily duties as well as helping our patients feel more comfortable during their hospital visits.